Nabil Guirguis

,

CEO
MD, MS.CR., CPE, FASN
Diplomate, American Board of Nephrology
Masters Science Clinical Research
Reviewer For the American Society of Nephrology
Fellow American Society of Nephrology 
Board Certified in Medical Management
Director Nephrology/Dialysis at Fairmont General Hospital
____________
Our mission is to provide comprehensive care for kidney prevention and treatement by establishing an specializing system with adequate technology and expertise.
Network of preferred providers
with
common mission and vision
to 
advance the kidney care
in
our service area.
-----------
Quality can be only measured by those who receive it (Patients)!  
_________________________________________
Dr. Guirguis is invited as guest speaker for the annual International Congress of Cardiology that will be held this year in December 2010 in Chinghai China
Cardio renal Collaboration
Cardio Renal Syndrome
_______________________________________________
The Kidney Center invests in you!
We are specializing in the prevention and treatment of kidney disease at all levels. 
We Care! 
Dr. Guirguis supports the mission of continues education and he is actively giving CME lectures to health care providers in offices, institutions, hospitals, community centers, etc. Normally, after each CME lecture, the attendants (healthcare prviders and physicians) evaluate the speaker. Click here to review the results of the feedback obtained of Dr. Guirguis after his lecture. If you are interested in hosting Dr. Guirguis as a speaker in your facility or institution, click here. Most of the times, Dr. Guirguis offer his educational services free of charge to increase the awareness of kidney disease in the medical community and improve the care provided to the patients.  
_______________________________________________
Kidney disease is a common health care problem in West Virginia. 
______________________________________________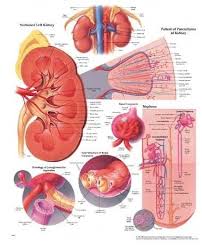 The kidney has a filtration function and hormonal functions.

The filtration function is responsible for purifying our blood and filtering out the waste that our body produces everyday. The BUN and Creatinine that appear in the routine blood test are examples of this waste.
The kidney hormones are responsible for regulating the functions of the circulation, the heart, the bones, the red blood cell production, etc.
When the kidney function declines, a condition called Chronic Kidney Disease (CKD) develops.
_______________________________________________
CKD is a very important condition that directly affects your health:
Discovering this condition early is very important to prevent serious health problems e.g. enlarged heart, high blood pressure, salt and water retention, edema, shortness of breath, weakness, fatigue, heart failure, back pain, loss of height, curved back, joint pains, osteoporosis, bone fractures, anemia, poor quality of life and many other disabilities.  
It is important to diagnose CKD early but is it easy to make this very important diagnosis using routine labs!
You have to lose more than 50% of the filtration function of the kidney for the BUN and Creatinine  levels to rise in the blood to have a clue that there is a kidney problem. Unfortunately the hormone dysfunction can cause many serious problems years before that!
You would want to know that you have CKD early to prevent many serious health problems that will affect your quality of life.
_______________________________________________
Can I have chronic kidney disease when my regular check up came back ok?
Yes, you still can have the chronic kidney disease condition. The disease is masked in many group of patients. That is why the chronic kidney disease condition is called the "silent killer"
The Kidney Center offers advanced methods for early detection of Chronic Kidney Disease that allows for early intervention to prevent many complications and improve the quality of life.
Discovering Chronic Kidney Disease using the traditional methods would miss the early detection in some group of patients including youth, pregnant, seniors, malnutrition, liver disease and heart failure patients.
Call  304-842-6001  to take the kidney screen. 
______________________________________________________________________________________________
What should I do to find out if I have Chronic Kidney Disease?
If you have:
urine problems,          high blood pressure,
fluid retention,           edema,
shortness of breath,    back pain,
tender bones,             osteoporosis,
fracture bones,           anemia, or fatigue,
especially if you are over 50 years-old
Call and ask for
The "kidney screen"
 

  

304-842-6001 
we can help!
______________________________________________
Significant published studies by Dr. Guirguis:
Acute Renal Failure in Critically Ill Patients

 Objectives  To determine the period prevalence of ARF inintensive care unit (ICU) patients in multiple countries; tocharacterize differences in etiology, illness severity, andclinical practice; and to determine the impact of these differenceson patient outcomes.

Timing of Renal Replacement Therapy and Clinical Outcomes in Critically Ill Patients with Severe Acute Kidney Injury

External validation of severity scoring systems for acute renal failure using a multinational database